NBA Logo Redesigns: Houston Rockets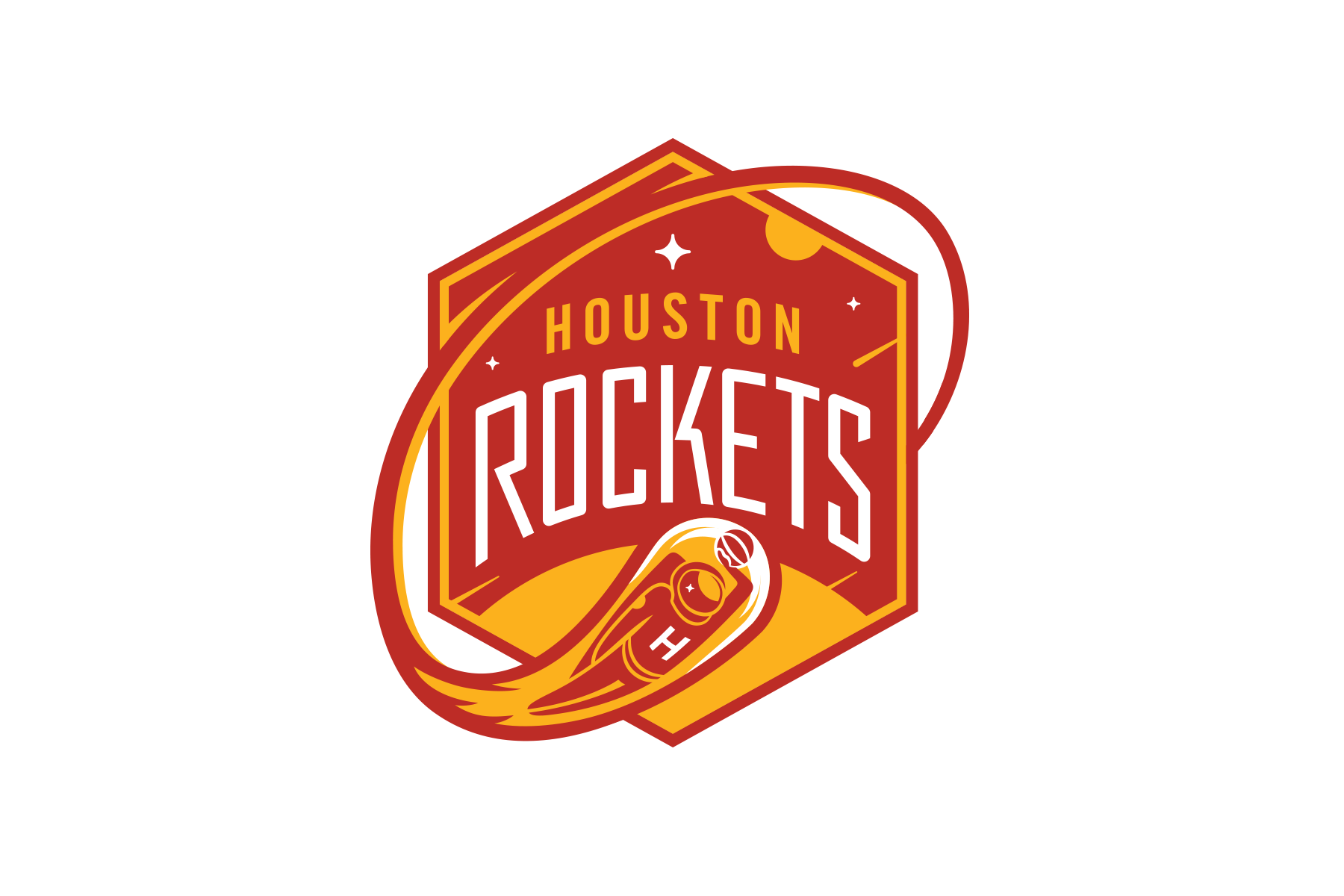 I finally got around to another NBA logo, it's been too long. As the Rockets are changing their identity this season to a run-and-gun D'Antoni offense, it might be a good time to rebrand.
The Team
The Rockets have won 2 championships in 94 and 95, led by Hakeem Olajuwon and Clyde Drexler. Since then they have remained competitive with an entertaining Yao Ming/Tracy McGrady era and the confusing/disappointing James Harden/Dwight Howard era. With Dwight gone, it's James Harden's team, which should be entertaining.
Past/Current Logos
The Rockets began as an expansion team in San Diego in 1967. The name was chosen because Atlas missiles were being produced in the area. This rocket looks like one of those pens with the switches on the side to change the ink color.
In 1971, the Rockets moved to Houston and adopted this Saturday morning cartoon-looking logo. This style obviously doesn't work but I like the jetpack idea and the color scheme has remained to this day.
The cartoony logo only lasted 1 season, as the Rockets introduced this logo the following year, which somehow stuck around fro 20 years. The slanted ROCKETS text is nice but I'm not sure what is going on with these circular shapes. What is this, an eclipse? Does this space-ball not have a seam in the middle?
The team rebranded themselves in 1995 after their back-to-back championships. This time they lost the yellow and finally included a somewhat cool looking rocket. The beveled text looks a little over the top now, but I remember thinking this was a pretty cool logo at the time.
The current logo was designed in 2003 by Japanese designer Eiko Ishioka. I like the idea behind this logo, simplifying and trying for a futuristic style. The R feels weird to me though, and the little rocket shapes included on each letter feels like overkill.
The Redesign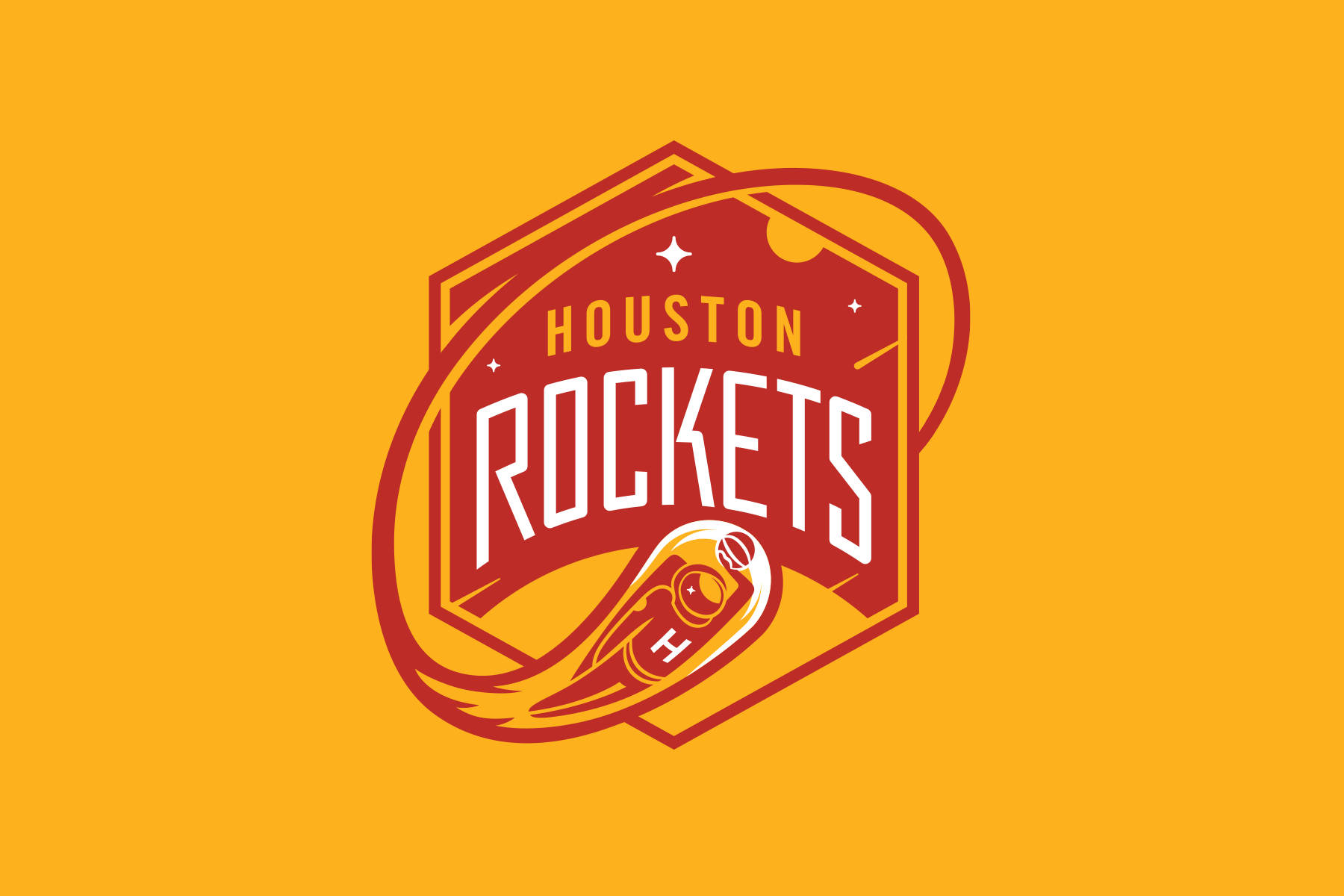 For my design, I wanted to combine the classic red and yellow color scheme with the futuristic style of the current logo. For a link to the space program in Houston, the ROCKETS lettering is inspired by the NASA logo. The hexagon shape is meant to be like a NASA mission patch.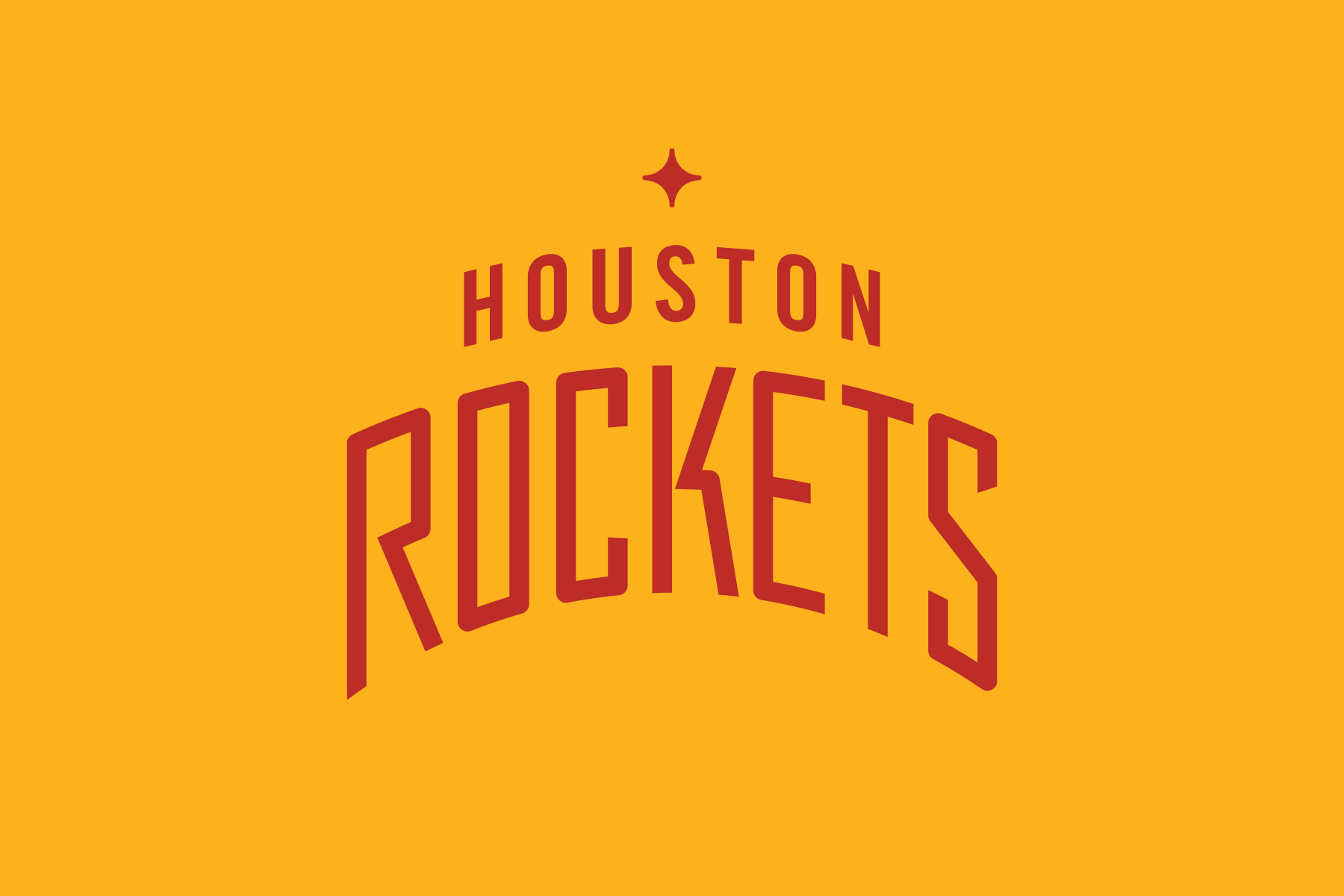 Instead of the plain rocket silhouette of the current logo, I created an astronaut character that's a little more dynamic. I had a tiny sketch of an Iron Man-esque character flying around a planet that I kept coming back to and eventually made it to the final design.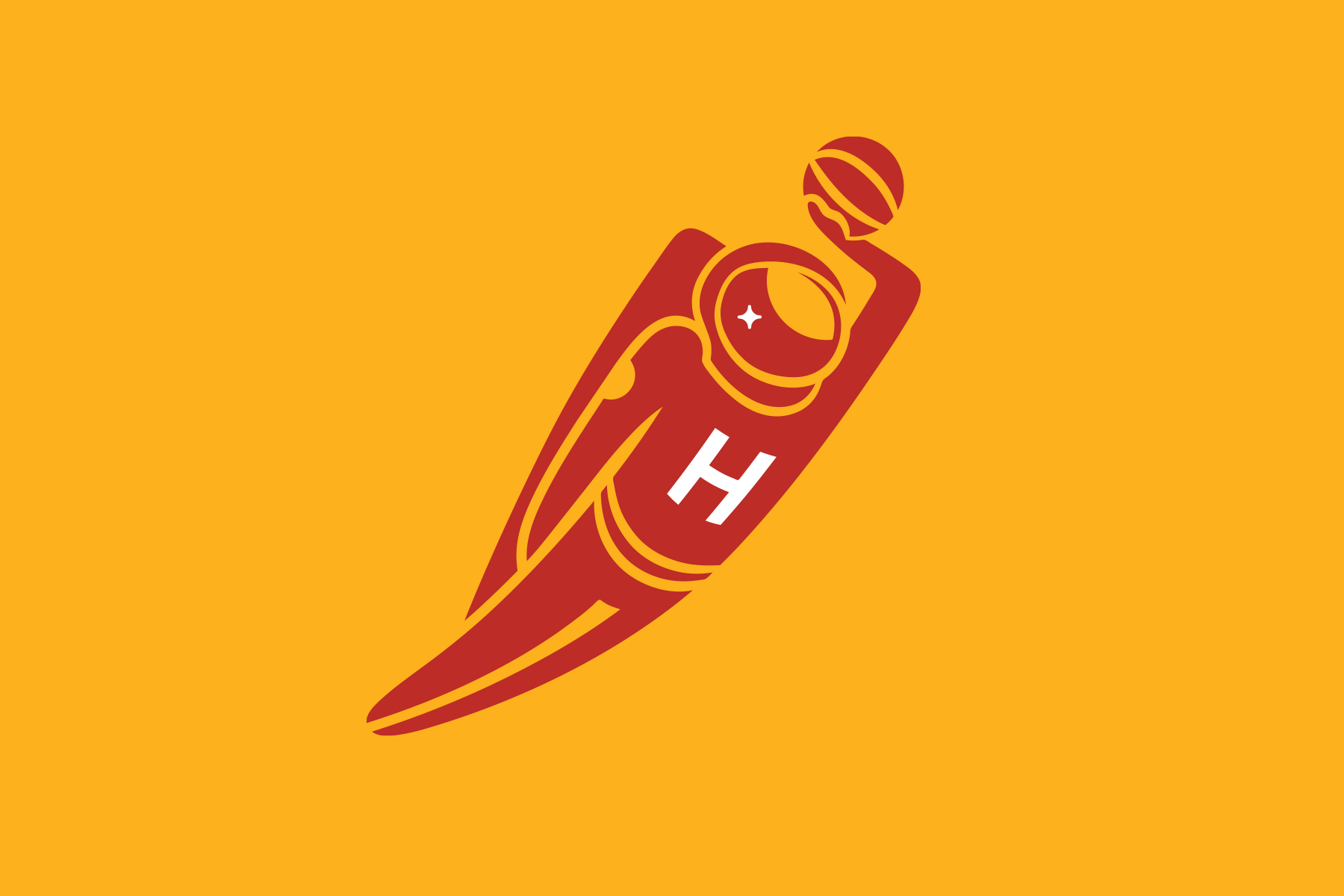 I eventually decided on red/yellow/white but I tried some other color schemes also, including this dark one: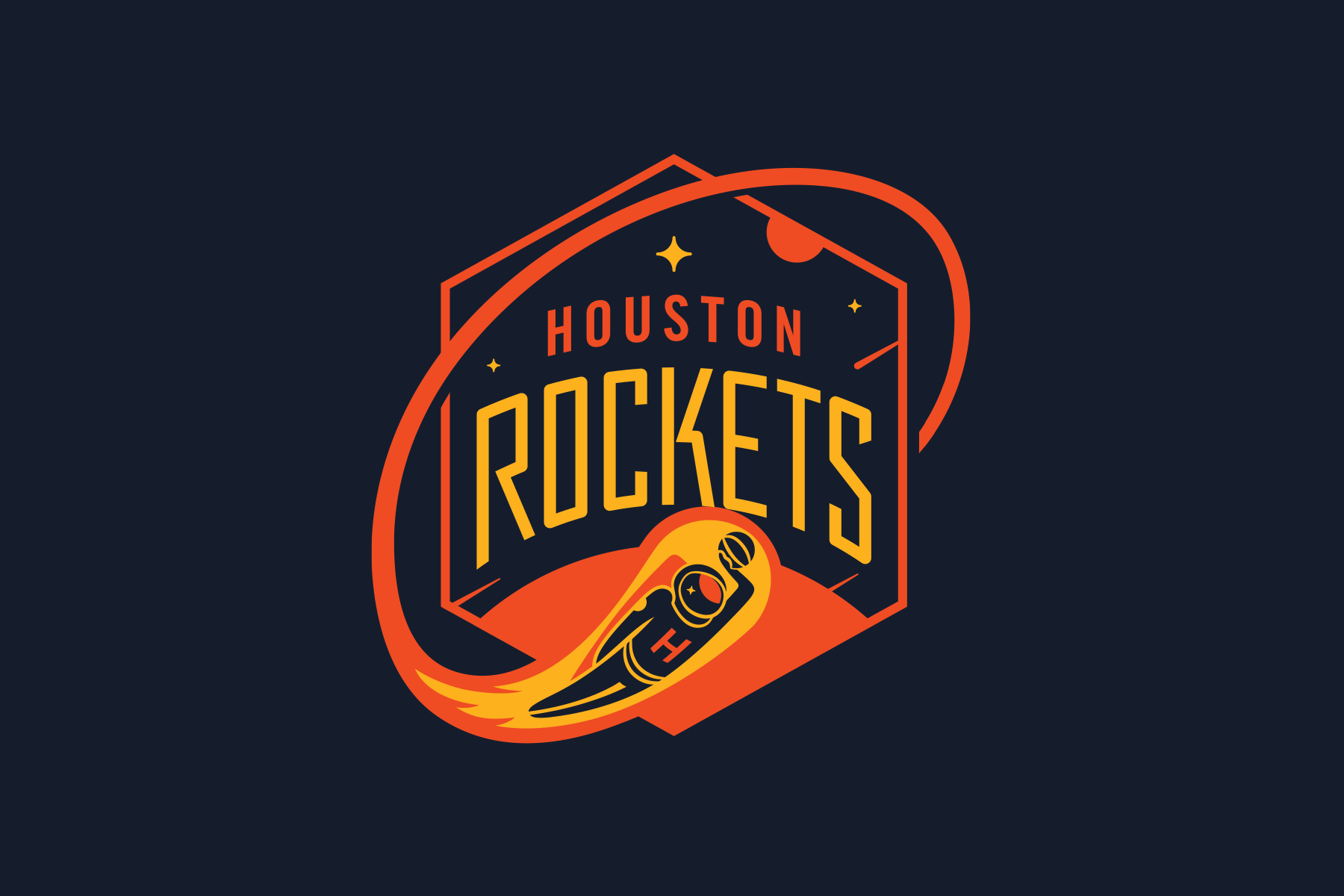 I think the astronaut could also be a cool mascot, wtf is this thing?

See more NBA logo redesigns here